Keep in touch with all Joe's latest shows, dates and events on social media!

A quick word from Joe:
"Hello and thank you for visiting my website! Well what can I say, what a fantastic 2017 it has been so far! I want to express my heartfelt thanks to everyone who has attented our sell out show's, has followed me on our social media movement and have shown such overhwleming support over the past few years to make this ever growing dream a reality. I hope to see you at a performance very soon and can not wait to make our 2018 projects even bigger and better. Please check out my upcoming shows and events page to find out where I will be performing at a venue near you! See you soon folks." , Joe.
Joe is an Award Winning singer, entertainer and producer based in Essex, who excels in the swing, jazz, soul and classical / contemporary music genres. He has been singing since he was 8 years old and decided to make his life long ambition come true just 7 years ago to entertain and perform ever since!
He has been travelling and touring the UK & Europe for the past 6 years during which he has enjoyed performing his award wining shows to sold out venues. He has the privilege of working with some of the most prestigious hotel, corporate, family entertainment, venues and organisations that Europe has to offer. Through this journey his growing reputation as not only an award winning singer and performer, Joe works together with his production team to bring his vision for the best quality entertainment collaborations to audiences across Europe. (see video & audio)
He has enjoyed working and performing for radio and televion companies both local and National with Phoenix FM's Live Lounge forum & appears at events throughtout the year for Heart FM. This year he was asked personally by Heart's Su Harrison to perform at their Global's "Make Some Noise" charity event at the award wining Pontlands Park Hotel. Joe was invited back for the third consecutive year to perform at the HeartFM Christmas lights road show singing to a record 5,000 strong crowd in Southend and Braintree Freeport. Joe has performed for members of the England Cricket team's Ashes winning test side of 2005, worked with Dance and Fitness Coach Kevin Adams and was personally asked by the inspirational Katie Piper to sing for her private family Christmas party. Joe's TV credits include enjoying success appearing on ITV's Britains Got Talent and working with Wall to Wall productions on BBC's The Voice. (view these events)
Joe has enjoyed the enormous privilege of singing all over Europe at the most bespoke wedding and ceremonial venues. Joe has been in such high demand for his powerful energry filled Wedding Show's and entertainment packages over past few years that he was voted "Number 1 choice for the Best Wedding Entertainer Live Performer for Essex, London and the UK" by the general public at the Wedding Industry Experts Awards 2016, which he said felt "Quite simply AMAZING!"

To find out more about what Joe and his production team Uptown - Funk Productions can do for your special occasion please scroll through or if you can not find what you are looking for contact him directly on the below link.
Please click here to contact me.
Proud to be associated with and supplier of entertainment for: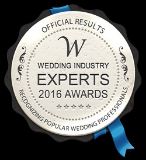 2016 Wedding Industry Experts Awards "Winner for Best Live Perfomer"
Click below for Facebook, Instagram and Twitter pages.